We've been in Cardwell hauled out doing maintenance on Seabreeze since Wednesday. We're scheduled to go back in the water tomorrow so we can continue our slow cruise south. Our haul out has been very successful …. apart from the mentioned repair of the boom … we have had the antifouling sanded & repainted on the hulls, have had prop speed anti-fouling on the props, I have replaced all 6 underwater valves & fittings.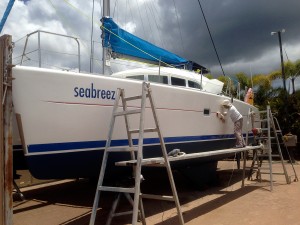 I have repaired a badly fitted propellor with a new packing spacer, replaced zinc anodes, changed oil in the gearbox/saildrives, we have buffed & polished the topsides, cleaned the decks of all the crap that blew up during the sanding of the old anti-foul, etc.
A full 5 days non-stop dirty work.
We have to look after Seabreeze as she is now our full time home & discovery machine. We look after her, & hopefully she will look after us.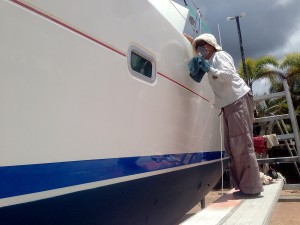 So looking forward to tomorrow to be out of here & free again to find beautiful anchorages of our choosing.
We are meeting up with Veronica & Rory next week, as they head south with our trusty Subaru Outback as they take it south for us. Hopefully, they will spend a few days with us on Seabreeze in the Whitsundays.